Do you find that you love wearing those loose-fitting printed pants that are so popular on blogs currently? They are a bit relaxed, a bit bohemian, but can be dressed up enough for work if you pair with a crisp pressed blouse or blazer and trendy heels. I only hate one thing about them really: they are called soft pants.
Need some examples for everything there is to love?
This blue floral pant, paired with heels and a silk blouse looks so sophisticated. These pants are definitely not evoking slouchy pajama to me. via
Can we all agree that these pants in all of their variations, from wide leg to tapered, are definitely a great look? It's just the name that makes me unsure about how awesome they are --the very pairing of the words soft and pants just seems so old and not stylish. It sounds like you are bed ridden and can't be bothered by those uncomfortable hard pant alternatives. They might as well just call them pajama pants and be done, because it has the same effect of making me feel like a very disheveled person if I tried to wear them in public.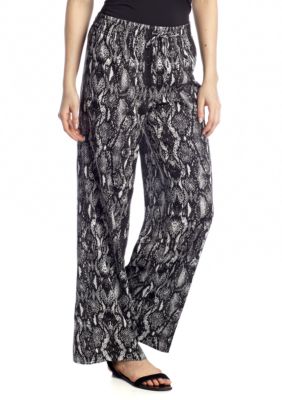 Looking for a great pant without a big price tag?
Belk has these Calvin Klein pants on clearance for
less than $24! Yes, I bought a pair already.
Unless you are 5'6" or taller, I don't
recommend pairing them with flats like the model.
And it is true, they are very soft and pajama-like when you wear them. But with bold graphic prints and a tailored waist, I actually think soft pants can look really sophisticated and put together. If you are a petite (short) person, wide-leg pants are notoriously difficult to wear, but wide-leg soft pants are actually wearable because they tend to fit very nicely through the waist and hips and just stay straight from the hips down. No strange flaring at the knees that can make a short person look like she is even more stumpy than she is in real life. I detest traditional wide leg pants for this reason, obviously. If you are short, just don't wear wide-leg soft pants with flats. You will still look strangely short, I promise.
I've been trying to think of a rebranding for these pants -- is it too late for people to stop calling them soft pants? And what would be a viable alternative. Bohemian pants? Printed pants (though I feel this doesn't describe the fit of them very well, it tends to be the way most fashion bloggers are labeling them because soft pant is just so noxious to have written on your blog)? Do you have any ideas? The fashion world needs our help on this, so post your rebranding advice below!
Of course in another year or two I will be cringing that I actually own two pair of these pants, not just because they are called soft pants. But such is fashion.